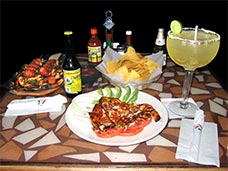 Authentic Mexican Food at El Jalapeños Mexican Restaurant
Are you obsessed with finding authentic Mexican food? A place to bring both your family and your friends for a special celebration or just a simple get-together? Then look no further then El Jalapeños, a Mexican restaurant on the Lakewood and Cleveland border known for using only the freshest ingredients  – the only things frozen at El Jalapeños are the margaritas!
We pride ourselves on our excellent Mexican food, large portions and fast service. We make your food only when you order it; if there's something you want that you don't see on the menu, just ask.
Bring your friends and family here and experience El Jalapeños.
Holiday Hours
We will be closed on Thanksgiving, Christmas, and New Year's Day. We hope you enjoy your holidays.
Like us on Facebook
www.facebook.com/ElJalapenosMexicanRestaurant